If you have your own online business, you know how important it is to make a positive impression on the customer. And nothing makes customers happier than fast and high-quality delivery of their purchases.
The trick is to ensure that shipping remains cost-effective for you with all the benefits to your customers. And this is where it is most profitable to work with a 3PL operator.
What is Third Party Logistics (3PLs)?
3PL (third-party logistics) are outsourcing companies that are intermediaries between an online business and its customers.
They are responsible for everything that happens after the customer has placed the order and before they receive it.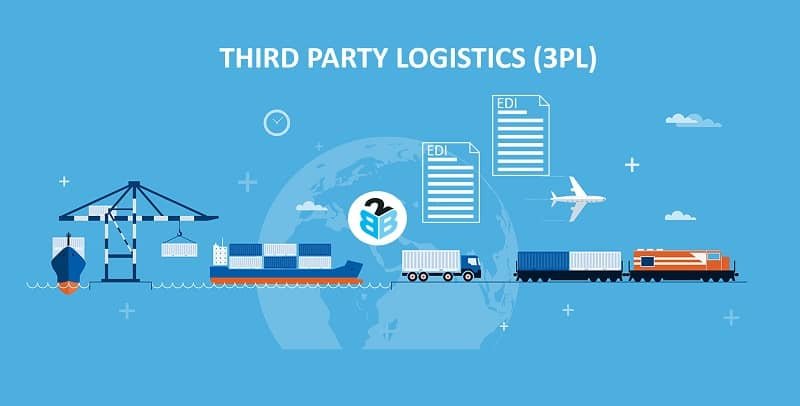 Why an online business needs a partnership with a 3PL provider
In short: by outsourcing fulfillment to a 3PL provider, you save nerves, time, and money.
With a professional 3PL operator, orders are delivered quickly and efficiently, and you free up time to develop and scale your business.
Besides this obvious advantage, there are others: 
#1. Fast order processing
Customers want to receive their orders quickly. Best today, perhaps tomorrow, in a few days max.
If this opportunity is not available in a particular online store, they start looking for an alternative and often find it.
It is difficult for a small online business to keep up with such a pace, while it is impossible for a larger one without its own logistics department.
Unlike e-commerce, a 3PL provider has all the necessary knowledge and technical power. Therefore, each order is processed quickly and accurately, and the risks of errors are minimized.
#2. Opportunity to enter the international market
In theory, if your business is small, you can ship orders to another country by postal service.
In practice, high transportation costs and delivery times make this option unprofitable for you and unattractive for the client.
In addition, the online store must have a warehouse as close to customers as possible, international certification of goods, and a whole staff of employees.
All this is very difficult and expensive to organize yourself. And it's not necessary but much easier to agree with a 3PL operator with offices abroad and focus only on marketing to attract foreign clients.
What is included in the 3PL service?
Traditionally, 3PL services are the reception, storage, packaging, and delivery of goods.
But most operators go further and offer various additional options, from processing orders through a call center to developing a corporate design for packaging materials.
First, let's talk about the main ones:
#1. Reception of goods
Usually, the logistics provider picks up the goods from the online store or receives them through the distributor, but at the client's request, the online store employees can bring them on their own.
#2. Responsible storage
Immediately after receipt, the goods are labeled, entered into the CRM system of the 3PL provider, and sent to the warehouse, where they are stored in compliance with all the necessary conditions.
#3. Order processing
Order processing depends on the provider's capabilities and your agreements with them. They can:
Automatically pull up into the CRM system of the 3PL provider (this requires integration with the e-commerce platform of the online store),
Be entered manually by employees of the online store,
Be collected through the contact center of the 3PL provider (this is an additional service).
#4. Packaging
Warehouse workers collect goods, assemble them into whole orders and then pack them in materials that reliably protect the goods during transportation.
#5. Transportation
The next step is to transfer orders to the delivery service.
Some 3PL providers cooperate with certain delivery services on an ongoing basis, and others select a delivery service for a specific task and some transport orders with their CSA Transportation service.
#6. Returns processing
Not all, but most 3PL providers are ready to deal with returns to classify this service as a major one. Sometimes customers abandon an item or cancel an order shortly before receiving it.
In this case, the 3PL provider registers the reasons for the refusal, examines the returns for damage, and, if all goes well, returns the money to the customer.
After that, the provider repackages the goods and, depending on the seller's agreement, either send them back to its warehouse or returns them to the online store.
We sorted out the standard services. Now let's take a closer look at the most popular additional options:
#7. Branding
Some providers have partnered with creative studios that, upon request, develop branding for the packaging materials and advertising inserts for the online store.
#8. Inventory management)
The provider prepares a detailed report on the balance of the goods, which is then synchronized with the CRM system of the online store.
This allows the seller to assess how much and what kind of goods were sold daily and understand when to replenish stocks.
#9. Working with COD payments (cash on delivery)
Cash on delivery is especially popular among customers, so the availability of such a payment method is a big plus for an online store.
The 3PL provider accepts the payments as a financial agent. After receiving the funds, the online store receives a notification about the completed order, and the money is credited to its account.
When choosing a 3PL provider, focus on the best.
Dropex is a 3PL provider with local warehouses in 7 European countries (Hungary, Romania, Poland, Italy, Spain, Portugal, and Greece). Dropex's mission is to help its clients' businesses develop quickly and successfully.
In addition to standard fulfillment services, Dropex offers useful additional services: work with COD payments, production of goods under the client's brand, assistance in legalizing products in EU countries, tax consulting, and much more.
To learn more about the conditions and cost of cooperation, visit the Dropex website.
For More Latest Business Updates and Information about Third Party Logistics, Visit Solobis NEWS Magazine.