A 10x10x17'6 powder coating oven is a key piece of equipment in any powder coating operation.
It is responsible for melting the powder, which is then applied to the surface of the material being coated.
The oven must be able to maintain a consistent temperature in order to ensure a quality finish. There are many different types of powder coating ovens on the market, each with its own set of features.
How they work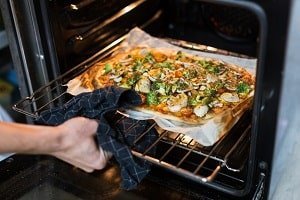 A powder coating oven is used to cause the powder to adhere to the metal extremely firmly, resulting in an extremely long-lasting coating.
The powder then transforms into a smooth substance that appears to have been painted on.
Powder coating ovens heat the coating to a specific temperature, ensuring that the powder coating method's final goal is met.
For this reason, specialized ovens are required; the coating should not be subjected to direct heating, and heating elements should not come into direct contact with the powder coating or it will burn the coating.
Heating coils in the coating oven must be capable of directing infrared heat to the entire coated object, a process known as convection heating.
Convection heating allows heat to move toward a substance without requiring direct contact; the heating coils do not come into contact with the coated object and thus have no effect on the coating.
A coating oven is set to a specific temperature, and a timer should be used to control the curing time. Using the appropriate time and temperature will ensure that the powder forms a solid film of plastic wrap around the metal.
The volumetric capacity of a powder coating oven is the most important feature. Powder-coating ovens are commonly used in the automotive industry to coat critical components to ensure that they do not deteriorate or warp during use.
As a result, powder coating ovens must be sufficiently large to be used with larger components or structures and highly controllable to ensure uniform conditions inside the curing chamber.
For data collection and process monitoring, powder coating oven integrated controls are valuable.
To ensure the best powder coating, these systems allow manufacturers to easily monitor and adjust the curing chamber's conditions in real-time using sensitive temperature controls and airflow rotation.
What they are used for
Powder coating ovens are used in a wide range of industrial applications. They can be used to coat everything from metal parts to plastic containers.
Powder coating ovens are also used to process food and pharmaceuticals. They are used to coat equipment that comes into contact with food and drugs, such as equipment that processes meat and dairy products.
Powder coating ovens can also be used to coat metal parts that come into contact with liquids, such as beer kegs and beverage cans. These ovens are also widely used in food processing plants to coat microwaves, hot plates and other equipment that comes into contact with food.
Wherever there is metal, there is the potential for powder coating an almost endless variety of items. Powder coating is an extremely versatile process that allows for the creation of various decorative finishes on any type of metal.
Whether you're looking for a protective finish or simply something more vibrant than a standard paint job, powder coating can help bring your vision to life.
Conclusion
Powder coating ovens are a great way to get a smooth, even finish on your projects. They work by using an electrostatic charge to attract the powder to the surface of the object being coated.
The object is then placed in the oven and heated, which causes the powder to adhere to the surface and cure. Powder coating is a great alternative to traditional painting methods and can be used on a variety of materials.