Health insurance is a practical financial instrument that cuts your out-of-pocket expenditure during a medical emergency.
While a general health insurance policy covers only hospitalization costs, specific policies like critical insurance plans cover pre and post-hospitalization expenses during treatment of a critical ailment such as cancer or cardiovascular disease.
Due to rising costs of healthcare coupled with medical inflation, the standalone health insurance market in India is expected to grow at a CAGR of 30% to about Rs.21,904 crore by FY 21-22.
4 Tips to Buy The Best Health Insurance Policy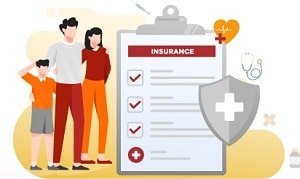 Choosing the right health insurance policy can be a little tricky with a myriad of plans. Read on to learn the essentials of choosing the right strategy.
#1. The sum insured
Every health insurance policy offers a basic sum insured. Based on the insurer's underwriting rules, you are approved of the sum certified. Before zeroing in on a health insurance plan, check out the sum insured offered.
Read: Tips To Reduce Two Wheeler Insurance Premium
If you live in a tier I city, healthcare expenses are generally higher than in tier II or story III cities. Remember that any amount above the sum insured must be borne out of your pocket.
For example, if the sum insured is Rs.8 lakh and the bill amounts to Rs.9 lakh, you have to pay the extra Rs.1 lakh from your pocket.
#2. Coverage of the network of the hospitals
Before choosing a health insurance plan, find out the network of hospitals covered by your policy. Every policy covers certain hospitals where you can avail of cashless treatment.
Read: XInsurance: Independent Midwives Insurance Importance
This can vary across insurers; therefore, it is crucial to determine the hospitals covered under your policy. Knowing the network of hospitals covered by your policy would facilitate reimbursement.
Though reputed insurers cover most hospitals, it's better to check out beforehand to avoid hassles later.
#3. Sub-limit and co-pay clauses
These are one of the most essential aspects of choosing a health insurance policy. Sub-limit is the cap placed by your insurer on your claim.
This limit can be set on doctor's consultation fees, room rent, ambulance charges, etc. For example, if the limit on your hospital room rent is Rs.3,000 per day and you stay in a room charging you Rs.4,000 per day, you need to bear the extra Rs.1000 from your own pocket.
Similarly, a co-pay clause ensures that you bear a certain percentage of your medical expenses. For instance, if your health insurance plan has a co-pay limit of 15% and you incur a bill of Rs.1 lakh, your insurer would pay only Rs.85,000. You need to pay the remaining Rs.15,000 yourself.
#4. Waiting period for pre-existing diseases
While usually, a health insurance policy is 30 days, the waiting period for pre-existing diseases can go up to 2 or 4 years. It means your policy would cover you for these diseases only after the waiting period.
The waiting period for the same pre-existing ailment may be different across insurers. Before choosing a policy, check out the waiting period for pre-existing conditions. The lower the waiting period, the better it is for you.
The final word
Whether you buy health insurance online, offline, or via a third party, fill out the proposal form, giving all the correct details.
If you have any pre-existing ailment, disclose it to your insurer. Hiding any information, however small it may be, can lead to a claim rejection.
Before buying health insurance plans for a family, do extensive research and compare the various policies. Comparison of health insurance plans in India is easy, with many portals readily listing the products offered by different insurers.
An effective risk management tool, a health insurance policy gives you the financial muscle to easily combat any medical emergency.